Our Green Contribution.
Discover Pfahnl – Our Green Contribution
As a regionally anchored family company, the future of both our region and the environment is very close to our hearts.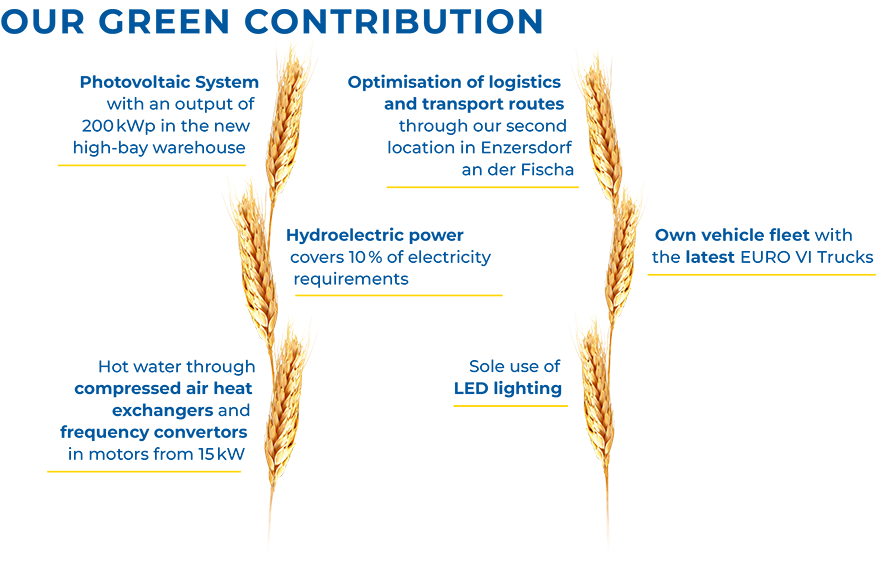 We're taking steps towards a sustainable future and operate a photovoltaic system with an output of 200 kWp in our new high-bay warehouse.
Our hydroelectric plant is a further element of our contribution to nature: with 100 kWp it currently covers 10% of the company's electricity requirements in Pregarten.
Our hot water is heated through compressed air heat exchangers in the two locations of Pregarten and Enzersdorf an der Fischa. We decrease our energy consumption by both reducing the pressure in the compressed air and through frequency convertors in motors from 15kW.
Operating our two locations in Enzersdorf an der Fischa in the grain growing region enables us to make significant reductions in CO2 for our customers, as burning 1 litre of diesel creates around 2.64 kg of CO2 emissions.
A further highlight: we run our own vehicle fleet with the latest standard EURO VI trucks.
We also think in terms of energy efficiency when it comes to lighting, and only use LED lighting in both of our production locations!