Quality Management.
The Process - Quality Management
Technical competence means guaranteed reliable quality.
Grains, flours, raw materials and baked goods are quickly and professionally analysed at all processing levels in the analytical laboratories of Pfahnl Mühle and Ludwig Polsterer Mühle.
The various qualitative and dough rheology analyses performed by Pfahnl form the technical foundation for delivering the highest quality flours and baking ingredients. They are also critical for supporting the development of innovative foods and new manufacturing processes.
The future is sustainable.
Our raw materials for baking ingredients always have one thing in common: certified safety. Whether it's ISO 9001:2008 or IFS. Our products are characterised by secured origin and sustainable production. As a manufacturer in the food industry, the bridge to the raw ingredients is important to us. The finest quality made in Austria – for everyone who appreciates freshness and consistent quality.
Innovation through research.
In our analytical laboratories, we perform targeted and comprehensive analyses of grains, flours, raw materials and baked goods at all processing levels. This enables us to guarantee the highest quality of flours and baking ingredients. We also develop innovative foods and future-oriented manufacturing processes in the laboratories.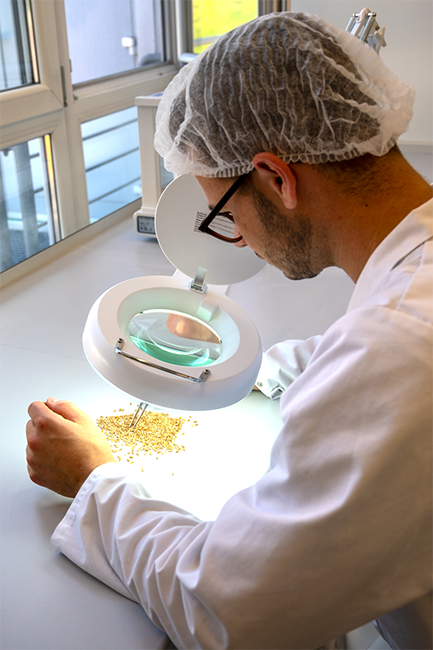 Chemical and physical analytics
NIR grain analyses
Qualitative and dough rheology analyses of flours
Microscopic procedures for structure analysis
Analysis of mycotoxins and allergens
Standardised baking tests and evaluations
Climate simulation analyses and texture analyses
Sensory analyses